Commercial Painting Services
We've been in the painting business for 20 years and as business owners ourselves, we understand how important it is that businesses put their best foot forward.
We're here to help make your business as visually appealing as possible through our interior and exterior painting, carpentry, drywall repair and refinishing services.
Certified by The Painting and Decorating Contractors of America, we're not only Chicago's leading certified painting contractor, but we're also environmentally conscientious (we utilize green products and air purifiers to virtually eliminate any unpleasant odors or dust particles) and are fully insured including worker's compensation.
We're reliable and professional (we require all of our craftsmen to pass written knowledge tests as well pre-employment drug and alcohol screenings) and strive to ensure 100 % customer satisfaction with each and every project. This, we believe, is what accounts for our stellar reputation. Over the years, we've found that 90 percent of our business has come from word-of-mouth referrals.
Below you will find a detailed breakdown of the interior and exterior services we offer.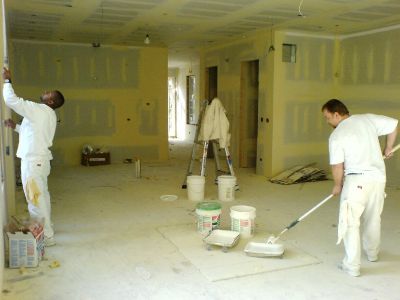 Interior Commercial Services
·       Top Quality Painting
·       Staining and Wood Re-Finishing (Cabinets, Handrails, Trim)
·       Drywall and Plaster Repairs
·       Wallpaper Installation and Removal
·       Decorative/Faux Paint Finishes (Venetian Plaster, Rag Rolling, Specialty Coatings)
·       Carpentry (Trim, Cabinets, Custom Work, and more)
Exterior Commercial Services
·       Top Quality Painting
·       Staining and Wood Re-Finishing (Front Doors, Garage Doors, Windows, and more.)
·       Deck/Patio Cleaning and Re-Finishing/Staining
·       Powerwashing (Paint Maintenance, Siding, Concrete Walk-Ways, and more)
·       Carpentry Repairs (Fascia, Siding, Trim)