Chicago Commercial Painters | Eco-Friendly Paint
Repainting your commercial property is an important project, and it is a project that you don't want to trust to just anyone. There are dozens of Chicago commercial painters servicing the local area, but you want to find a painting company that can provide you with superior, professional results and that can complete the job in an expedited time frame. When you need to find the best painters in the Chicago area for smaller or larger needs alike, Greenworks Painting is the company to call.
Professional Results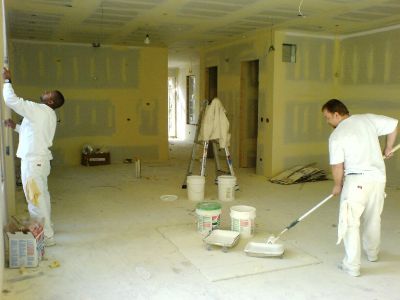 At Greenworks Painting, we know that painting the interior or exterior of your business property can create a disruption in your business. You need to repaint your building, but you want to enjoy fast results. More than that, you want to enjoy high-quality results that create crisp edges and provide full coverage. Each of our craftsmen is a full-time professional with significant experience with both interior and exterior painting services. They can provide you with full coverage results, or you may request any number of faux finishes to take the look of your space to the next level. We can provide rag rolling, Venetian plaster and other finishes that can enhance the look of a retail, restaurant, office or other commercial space. Further, we only utilize eco-friendly paints and stains when possible. This ensures that the indoor air quality in your place of business remains safe and healthy for you, your employes and your customers or clients.
The Best Service
Our dedicated team of Chicago commercial painters will provide you with great results. Each of our craftsman is a true professional who strives to provide you with the amazing results. Our hiring process is stringent, and each employee is pre-screened and his experience in the industry is verified. Some painters are known for extending the completion of a project outward or for being less than professional on the job. Our goal, however, is to provide you with fast, beautiful results in a manner that is least disruptive to your business operations.
Greenworks Painting can provide you with a full range of commercial painting services. Whether your current painting needs are large or small in scope, we can handle the job. You can contact us today to schedule an on-site estimate, to learn more about the paints and stains we use and to explore how our services can help you to achieve the look you want in your space.