Maintaining the exterior of your home in Chicago!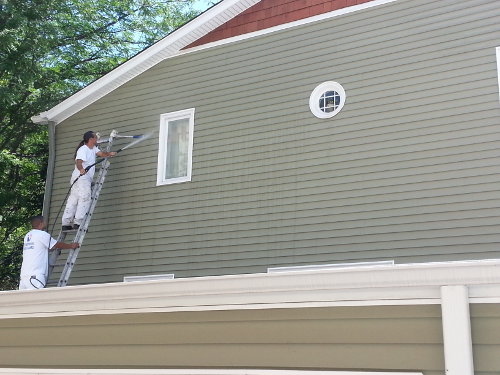 Chicago can be one of the toughest areas on your exterior paint. From the 95+ degree summers to the sub-zero winter temps, it can definitely take a toll on your exterior paint. Have you ever wondered how often you should be maintaining or repainting the exterior of your home? It's not unusual to run into a homeowner every now and then who says they haven't painted their exterior for 20 years, why is that? You must be saying either that paint job is long over-do or what kind of paint did they use that lasted so long? And what exactly did they do, if anything, to maintain a beautiful appearance for so long? The truth is ANY paint job can last 20 years if the job is done right and then properly maintained!
First on my list is proper preparation. Thorough cleaning, scraping, sanding, and spot priming are the basic essential keys to a log lasting paint job. It is extremely important that the surface is clean so that the fresh paint can adhere and bond properly. Painting over a dirty surface is a sure bet that you will have paint issues in the not so distant future.
Second, you should always opt for a top quality paint such as Benjamin Moore or Sherwin Williams. It doesn't make sense to skimp out on material since the majority of your cost is labor, so if you're trying to save money on paint…you're making a big mistake. Top quality paint has more titanium and resins which don't fade as quickly and last much longer than cheaper paint. Two coats of quality paint should last you about 8-10 years but can last as long as 12-15 years or more if applied and maintained properly.
After a new paint job it's very important is to keep any surface contaminants such as dirt, mildew, or moss off of painted surfaces by pressure washing or hand cleaning as needed generally once every year or two. If you're experiencing any peeling paint it's best to repair and touch these areas up as soon as possible, the longer you allow troubled surfaces to exist it will create progressive damage, so it's better to handle it right away!
With just these few simple steps you can extend your paint life and make it last for many years! Make sure to call us, Chicago painting experts!
Call Greenworks Painting, Inc. today for a FREE ESTIMATE! 773-267-9111 or click below.

Serving Chicago and Northern Suburbs | Interior & Exterior Residential Painting Experts | Professional Painters | 2320 N. Damen # 1ER, Chicago, Illinois 60647